Welcome to The Soul Connection Method
Connect with your heart, finding your internal strength, inner child and deep power.
Baggage from mental or physical violence, childhood trauma such as abuse and emotional coldness of any kind is easily retained in the unconscious mind, where it festers and hinders growth. When these emotions stay locked up inside, they can affect the entire body, sapping our energies. Life becomes a struggle. No matter how deeply buried, the related memories can create many problems, such as stress, anxiety, insomnia and even relationship troubles and control issues – ranging from not taking responsibility to feeling a need to be in charge.
The Soul Connection Method is a sensitive soul-recovery process and a way to free your unconscious mind beautifully – the emotional blockage gives way to a life-affirming, flowing stream. The Soul Connection Method helps you begin a rewarding inner journey to find your inner self and heal yourself at the level of the soul. You may also get in touch with a lost childhood. Nearly 100% of people who have taken part in our courses have been able to establish what we call soul contact in their very first session.
If you sense shadows of trauma from the past, big or small, the Soul Connection Method can effectively help you dive down to the source, enabling you to eliminate nearly any problem you may be facing in life at the moment. When you're able to understand what really happened in your missing childhood, you will also understand why you feel the way you currently do. The journey of a soul-healing process helps you to break free of emotional blocks by guiding you gently on the right track. The tools are easy-to-use yet powerful techniques designed to cleanse and heal the inner child.
This 6-day course is very simple to follow. You just need an open mind and an internet connection. All the tasks are easy to complete in a small amount of time. You'll be surprised with how easy the whole process is – I still marvel at how much more effective it has been than I could ever have imagined. If I have been able to make the process a part of my day-to-day life, as a busy entrepreneur, anyone can.
THE COURSE ENROLLMENT
Welcome to the Soul Connection Method


WHAT HAVE PEOPLE SAID?
Feedback on the course
Feedback
from a 20-year-old woman
The course was relaxing, and it truly touched my heart.
I shed a few tears during the formation of the connection and experienced childhood memories of how it felt to be a princess. How in the world have I forgotten this feeling?
After the course, I felt calm and truly present.


Feedback
from a 40-year-old man
I was frightened at first, but then relieved. I got what I wanted from this course. In addition, my stress decreased clearly from the beginning, and a fear of being different and unaccepted melted away.
The sharing and discussions were the best!
The course offered what I wanted, and that was to find my true self.
Feedback
from a 40-year-old woman
The course was liberating and authentic. I got in touch with my inner child, and that was what I had sought from the course, but also I wanted the adult side's support and protection. I went through many emotions, so I feel a little tired now after the course. Absolutely the best thing was Maija's gentleness and encouragement, as well as all the sharing and relaxation. The course helped me more with my self-knowledge.
Feedback
"A connection opened up"
I was able to open up my soul via the Soul Connection Method. This had a huge impact on my entire life and all facets of it. I don't operate on the basis of the past traumas anymore; I act as a responsible adult instead.
Because of the process I have finally grown up – in a very good way.
Feedback
"My creativity increased"
It helped me with my creativity and self-expression.
It felt as if my creativity was lost for years, but after I opened up my subconscious mind, that creativity started to rise again.
I am infinitely grateful for having my creative self back after years of silence.
Feedback
"I feel like belonging again!"
I've gotten rid of the constant feeling of loneliness and the sense that I'm not part of anything. I'm part of something bigger this time around.
I understand that my existence has a meaning, not just for myself but for others. Also, I freed myself of problems such as codependency.
Who - Where AND Why?
The story behind the method
To make a long story short, my childhood was a real mess. Growing up with dysfunctional, alcoholic and violent people gives you cuts. Deep ones. In addition to that, I was sexually abused and mistreated as a child and as a teenager. While I was growing up, I experienced anxiety and various symptoms I didn't understand. What I did understand was that I wasn't fully alive. Something didn't make sense, even though everything should have been pretty fine in my life. Many things outside me were fine, but my soul wasn't satisfied.
I looked for help at first with various therapies and then from ACA's (Adult Children of Alcoholics) support. Years later, I heard about the idea of the inner child. It was clear that our unconscious mind knows exactly what we need, but I couldn't find a good process to help me get started on the powerful journey involved. So I started creating a method myself, a tool that others too could use for contacting the unconscious mind or inner child, tapping into that wisdom at the core of the soul. With this process, I've been able to unburden myself of unconscious traumas that were weighing me down, strongly affecting my adult life and wellbeing.
I was able to connect to the source deep in me, and boy did it have a lot to say! Today, I have filled more than 29 notebooks with handwritten reflections from my healing. When other people in Finland asked me to guide them on their soul-reaching path, I took up the challenge, and ever since I started using the technique, in 2014, I have been teaching others, giving them the tools to connect with their inner self.
I really hope you take the leap and participate in this course! You're warmly invited to join me on an amazing journey that starts within. I'll be at your side, guiding you all the way. This is a mindblowing and life-changing experience, I can assure you.
Send me email to let me know the number-one thing you need some help with, and I'll be more than happy to connect with you! Comment, share your thoughts or send some musings, and I'll get back to you right away.
---
Enroll in course


In the meantime, if you're not ready to take the plunge yet, please contact me with any questions or thoughts you have. I will be happy to answer. Contact me or ask a question – it's a safe and easy first step!
With love,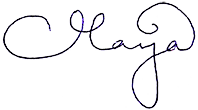 Maija Luomala, creator of the Soul Connection Method
maija@childhoodtraumas.com
WHERE ARE WE LOCATED?
In Porvoo, Finland
Address: Lundinkatu 10 B 45, 06100 PORVOO, Suomi Finland
CONTACT
Maija Luomala
maija@childhoodtraumas.com
Skype: maijamedia